Nollywood Movie Star, Joseph Benjamin Causes Buzz On Social Media , Reveals How He Turned Into Uber Driver To Survive In America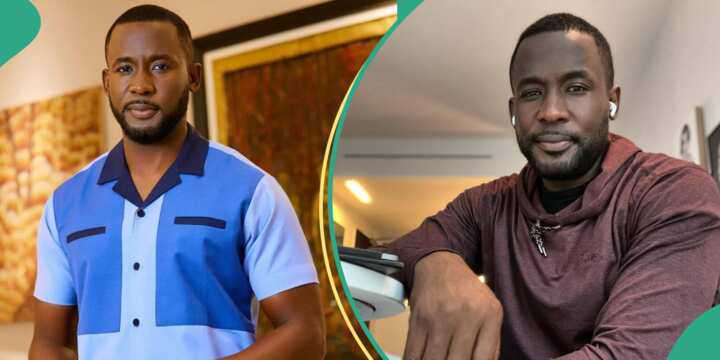 Share this Post
By Divine Chisom Emmanuel

Nollywood popular Actor and Media Personality, Joseph Benjamin, has revealed the difficult side of relocating Overseas, otherwise known as Japa.
He said "I Drove Uber, Amazon Delivery Trucks to Pay My Bills in America".
Actor Joseph Benjamin, is currently trending in the news after speaking about his hustle abroad
The movie star, who has relocated to America, revealed some of the jobs he did, including driving for Uber and Lyft and also doing Amazon deliveries
Benjamin's revelation caused a lot of buzz on social media, with a number of netizens sharing their hot takes
Show host Benjamin, has moved many Nigerians with his story of survival in America.
Just recently, the movie star was interviewed by comedian Teju Babyface on his podcast and some of the things he revealed caused an online stir.
Joseph Benjamin was heard speaking on some of the 'odd jobs' he did in America to be able to pay his bills.
According to the actor, he worked in the cold room in Publix, delivered packages in Amazon trucks, and drove Uber cabs, among other things.
Benjamin went ahead to speak on the reaction he usually got from some Nigerians after they discovered he was their Uber driver.
According to him, his car now became a sort of motivational hub because he would speak with them, counsel them and more.
He said: "They get inspired by my life, when I tell them about the journey so far. My car became a motivational hub. I end up motivating people, counselling people…"
According to the Nollywood actor, he also had moments when the life he was living would leave him broken, but it was all part of his journey that God wanted him to pass through.
He explained that he needed to pay his bills in America. In his words: "Do you know I delivered packages for Amazon in Amazon trucks? I had those moments, I had those days, there's a rebirth, moving away from the public narrative of who I am to who I've become because who I've become has been broken, everything has been pulled away and he has been reborn. So Teju I went through that process. I had to pay my bills."
Joseph Benjamin's story drew a series of reactions from netizens. Many of them were moved by the actor's story as they shared their thoughts online.
Read some of their comments below: mikearemu: Thanks for being real bro. Btw, there's nothing wrong with being an Uber driver.
For some people, that's all they do especially in the west and they live okay, feed their families, go on holidays, even buy houses and they're happy. 
Life is not about what you have or don't have, it's about choosing to be happy , to have inner peace and joy regardless of your circumstances.
For some like yourself @iamjosephbenjamin it's a process, a phase, and the best thing to do is to enjoy every moment of the process!"
dayustical: "One of the greatest lessons I have learned in life is no matter the level of affluence you have attained in the past when there is need to readjust your circumstances by lowering your standards and expectations don't be discouraged and never be worried about people's opinions as long as it's pays your bills at that moment of time that you would have been put to shame- it's fine! Life is in phases." 
mitchbenj5005: "Funny enough these jobs are not bad jobs here more than half of the African population do it, there's no job discrimination here."
kmartgrocerylagos: "I admire his flexibility….some will be doing big man…" beebee_lizzy_kofo: "America will humble you to a greater heights if you focus ‍♀️ without distractions because I live there and you can make it in that country from a humble scratch ."
yusuf_adetunji_shakirat': "This is sad." chikestella: "God bless him, I like that he's open. Yoruba adage says, ole lo ba omo je! Even with the Uber/Lyft job, he earns way more than most people. "
king_ty2000: "America and humility are bedmates for immigrants…." tayme2cute: "He's so humble to have gone through that.❤️❤️"
Share this Post