OIL THEFT :  Asari Dokubo  Says Military, Especially Army, Navy Are Major  Culprits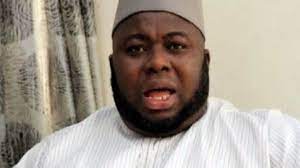 Share this Post
Founder of the Niger Delta Peoples Volunteer Force, Asari Dokubo, has said the Nigerian military is behind the huge oil theft going on in the Niger Delta coastlines.

Dokobo accused them on Friday in an interview with the State House Correspondents after his meeting with President Bola Tinubu at the Presidential Villa, Abuja.
He stated that the military made up of the Army and Navy were in the habit of intimidating the Nigeria Security and Civil Defence Corps, who are by status the people who are supposed to protect the pipelines.
The ex-militant, who claimed that Tinubu had been a father figure for 30 years, stressed that 99 per cent of oil theft and bunkering in the Niger Delta is being executed by the Nigerian military, especially the Army and the Navy.
Dokubo stated that he had volunteered to end the menace knowing that he would be fully protected by the Tinubu administration.
"The Army and the Navy intimidate the Nigeria Security and Civil Defence Corps men, who are by status the people that are supposed to guard these pipelines.
They receive a lot of money from NNPC, PCL and the IOCs and just across the corner, you will see a houseboat, you will see an oil bunkering refinery or tapping directly from oil well ends.
It is very pathetic now. What is happening in the Niger Delta in the past eight years was unprecedented in the history of oil production anywhere in the world.
"The vandals do not only attack the pipelines, they have migrated from the pipeline and have gone directly to the oil wealth heads and they take directly from the oil wealth heads.
They set up haphazard facilities they call local refinery, artisan refinery, this is crime against humanity. Because the livelihood of the people is being totally destroyed. The livelihood of the people is totally destroyed.And every meter you see a naval house boat or an army house boat stationed.
"So the main culprit are the Army and the Navy. And there are notorious naval commanders who are known to be kingpins of these bunkering activities.
Even if they give N1bn contracts to everybody in the Niger Delta; because these military men are armed from the Army and the Navy, nothing will happen.
"The President has promised to take decisive action to make sure that these does not continue. It must be brought to an end. So I had volunteered to help, to assist and to do the things that are necessary to put a stop to this evil that is being perpetrated against the people of the Niger Delta, the oil community and the whole of Nigerians."
Share this Post