Taskforce Nab Fake Dollar  Fraudsters, Vows To Make Lagos Continually Unhabitable For Criminals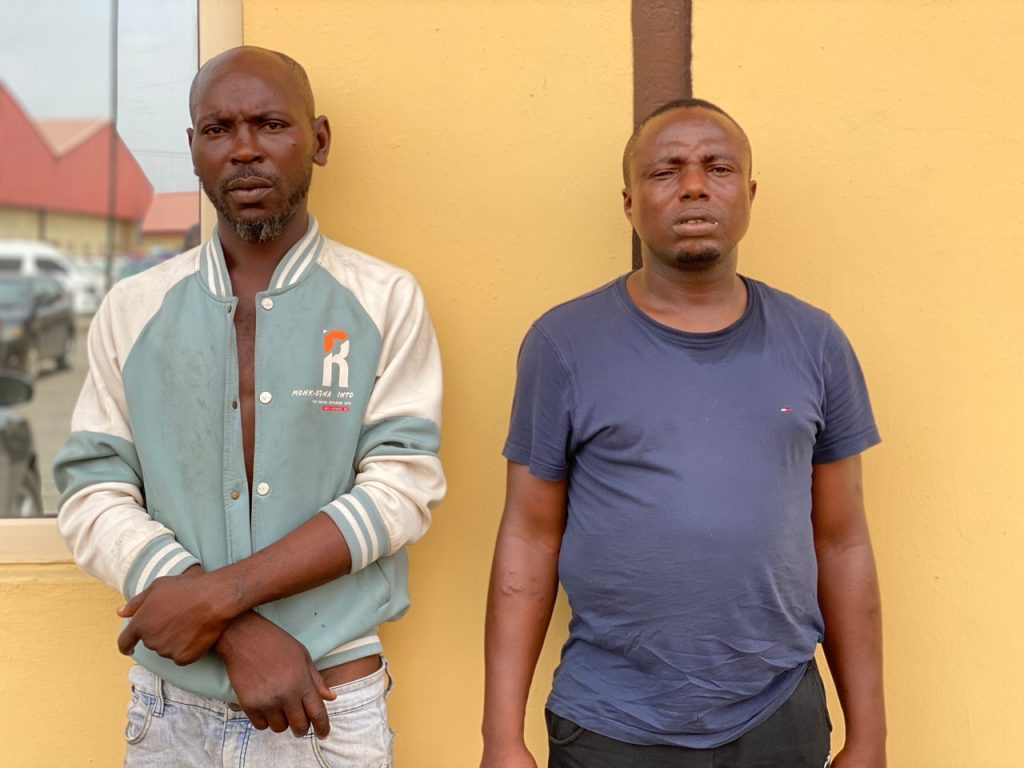 Share this Post
In its avowed efforts to reduce crime and criminality, the Lagos State Taskforce, have bursted a fake dollars syndicate also known as"Wash Wash" and arrested two suspects.

The arrest, according to the statement signed by the Agency's Director, Press and Public Affairs, Mr. Gbadeyamn Abdul Raheem, made available to News Planet International, "it's part of the success in its effort to achieve zero tolerance to crime in the State as well as again fulfilling its promise of making criminality unattractive in Lagos".
The syndicate is said to Specialize in defrauding unsuspecting members of the public of their hard earned money by deceiving victims into believing that they were assisting them to convert dollars to Naira.
The duo, Abdullahi Mohammed and Victor Etuk were arrested at mid-day by officers of the Agency along Oshodi while in the process of swindling an unsuspecting lady walking along that axis by asking for directions to a non existent market and then later asking her for a place to change their supposed large sum of dollars.
She declined but they promised her an iPhone 11 Pro Max and 200,000 Naira if she could take them to where they could change their dollars.                                 
Her repeated appeal for them to leave her alone drew the attention of the officers who swooped in on them and effected their arrest.
One of the suspects, Victor Etuk claimed he has been in the practice for over three years and had been convicted for it in 2020 for seven months after being caught.
"I was arrested during the pandemic by officers of Ago Police Station for defrauding a woman through this same means and my share of the loot was 12,000 Naira. I spent 7 months behind bars but as soon as i got out of jail i went back into the same practice"
The second suspect, Abdullahi Mohammed is also an ex convict who spent six weeks in Badagry Correction Centre after being convicted for other crimes.
Speaking on the arrest at the Headquarters of the Agency, the Chairman, CSP Shola Jejeloye described the antics of the suspects as an old trick in the book which has been on for a long time but unfortunately some individuals still fall victim to it.
"We have heard of this method of defrauding people popularly known as "wash-wash" and it is quite unfortunate that it is still being adopted up to this very day. These two are just part of a larger syndicate who still engage in this practice and we will make sure that they are all fished out and brought to book"
Jejeloye appealed to Lagosians to be vigilant especially in crowded areas where people like this lurk and search for who to defraud.
He urged Lagosians to alert the Police or any security agency once anything suspicious takes place around them.
He promised to intensify efforts to ensure that miscreants and hoodlums are taken off the streets for the safety and serenity of all.
"The Agency will leave no stone unturned this year and anyone engaging in crimes or criminality will be arrested and prosecuted"
The two Suspects will be charged to court accordingly.
Share this Post