TikToker , Ego Blessing Okoye ,Detained Over Actress Eniola Badmus's Complaints, Laments Police Maltreatment , Says "My Phone Is Being Held By The Police"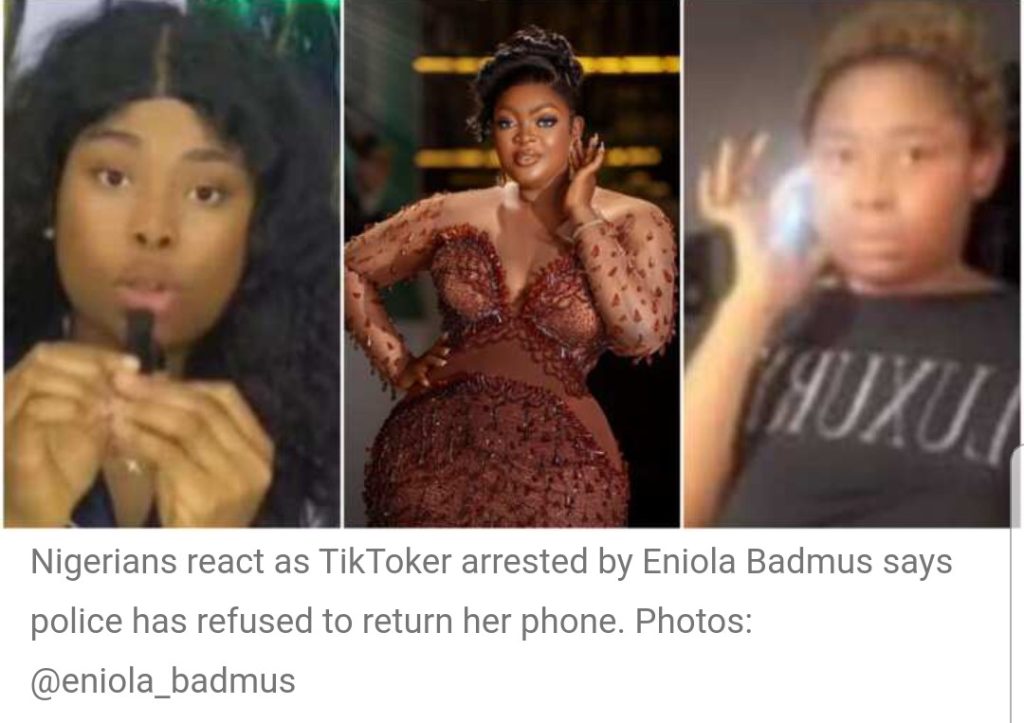 Share this Post
By Divine Chisom Emmanuel

Controversial TikToker Ego Blessing Okoye, who was arrested recently by the police following a complaint by Actress Eniola Badmus, has heat up the social media handles in her new video.
Lamenting, she complained bitterly about how the Nigerian police refused to release her phone after she was freed from detention .
Ego's video raised series of mixed reactions on social media, and some netizens blasted Eniola, shortly after her release from detention.
In a video posted on Instagram by @Gossipmilltv and spotted by News Planet International, Ego was heard lamenting bitterly about her phone being held by the police.
The lady said she had been released from detention for about a week now after her matter with Eniola was resolved, and she was made to pay a fine.
Ego noted that the court mandated that her properties be returned to her, but the police have refused to.
She explained that she had been to the police station several times, and they kept telling her to come back on a different day.
The TikToker said as a result of not being with her phone, she has no access to money, and she needs to go to the hospital to treat herself.
She also said she missed her Canada sponsorship interview because the access code for the interview was in her phone.
Ego Blessing's new video sparked a series of mixed reactions on social media.
Some netizens said it serves her right, while others blasted Eniola Badmus for the troubles she's facing.
Nollywood actress Georgina Onuoha also accused her colleague Eniola Badmus of detaining and intimidating the influencer who defamed her.
The Tiktoker Ego asserted that Eniola was a professional pimp. She added that she had once connected an acquaintance of hers with a wealthy man.
In response to her colleague's actions, Georgina Onuoha stated that the Tiktoker should have been prosecuted for defamation instead of being arrested.
She stated that defamation is not a crime that necessitates an arrest.
Share this Post