21-Yr Old  CEO "The -Chi-Place Spa"  Enmeshed In $220,000 Marriage Scam , Arrested For Defrauding German National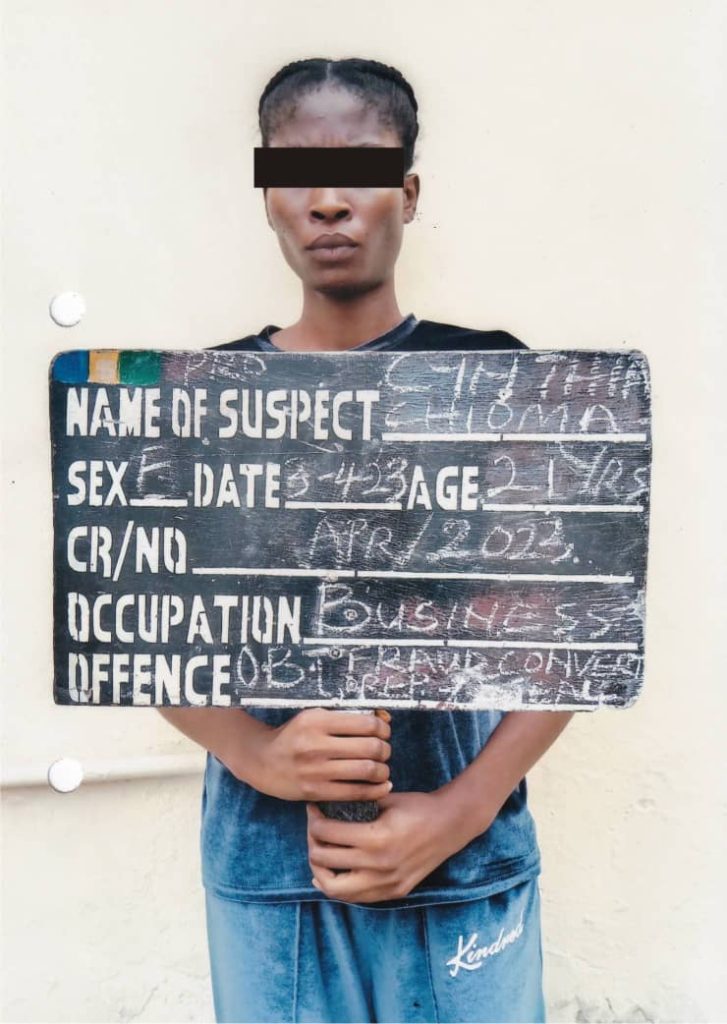 Share this Post
A 21-yr Old Economics graduate of Nnamdi Azikiwe University, UNIZIK, Awka and Chief Executive Officer, CEO of "The -Chi-Place Spa", Atuonah Cynthia Chioma, has been nabbed by the Operatives of the Police Special Fraud Unit (PSFU), Ikoyi-Lagos.

Atuonah Cynthia Chioma, an indigene of Anambra State was arrested for alleged case of fraudulent conversion, stealing and obtaining the sum of two-hundred and twenty thousand Dollars ($220,000USD) by false pretence from a German citizen.
This is according to disclosure made by the Police Public Relations Officer (PPRO) of the unit, SP Eyitayo Johnson ,in a statement made available to journalists on Wednesday.
The PSFU spokesperson  stated thus : " The suspect, a 2019 graduate of Economics, Nnamdi Azikiwe University (UNIZIK), Awka; who claimed to be a model and proprietress of a Massage Spa known as The-Chi-Place, lured the 50-year old victim on Instagram by feigning romantic intentions towards him, thereby gaining the victims' trust and goodwill.
" Miss Atuonah Chioma promised to marry the victim, invited him to Nigeria for visits on several occasions and convinced him to relocate permanently to Nigeria to live together as husband and wife. 
" In a ploy to dispel suspicion, the victim was made to meet with Atuonah Chiomas' parents at Ikot-Abasi, Akwa Ibom State where he received their blessings to marry their daughter.
 "The victim was persuaded by the suspect (Miss Atuonah Cynthia) to return to Germany to sell his house in Stuttgart, and forward the proceeds of sale, together with his pension and life savings to her domiciliary account in Fidelity Bank plc; for the purpose of purchasing a house in Nigeria where they will both live as husband and wife as well as to establish a joint business outfit as indicated in the bank transfer narration.
" During interview session, the suspect admitted in her statement that the sum of Two Hundred and Twenty Thousand Dollars ($220,000USD) was transferred to her account by the victim. Part of the proceed was used then  to buy a 2-Bedroom Terrace apartment at Zara Estate, Ikota Villa, Lekki Phase II, while some of the funds was sent to support her mother's business and to pay medical bills of her father.
" Efforts are ongoing to recover other proceeds of the crime while the Unit remain committed to diligently investigate and prosecute fraudsters who are out there damaging the image of the country.
" The suspect will be charged to court as soon as investigation is concluded".
Share this Post