MONEY LAUNDERING : EFCC Intercepts Fleeing  Senator Nwaoboshi , Excorts Him To prison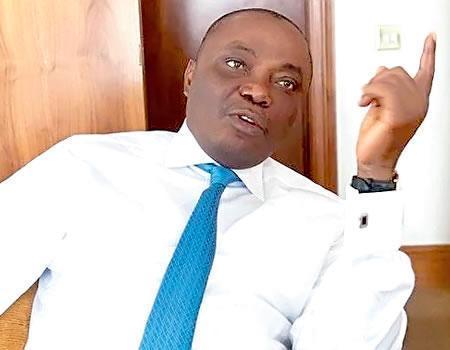 Share this Post
Senator Peter Nwaoboshi ,  representing Delta North Senatorial District, who has been on the run, evading justice after the Court of Appeal, Lagos Division, sentenced him to seven years' imprisonment for money laundering, has been arrested.

The Economic and Financial Crimes Commission said this in a statement on Wednesday, adding that he had been taken to prison custody to start his jail term.
The Head, Media and Publicity, EFCC, Wilson Uwujaren, in  the statement, said the lawmaker was intercepted by operatives of the EFCC at a hospital in Lagos on Monday, adding that he was taken in Ikoyi Custodial Centre on Wednesday, February 8, to commence his prison term.
The statement reads partly, "The Court of Appeal had in a judgement delivered on July 1, 2022, sentenced him to prison after it convicted him on two counts of money laundering and also ordered the winding up of his two companies, Golden Touch Construction Project Ltd and Suiming Electrical Ltd, in line with the provision of Section 22 of the Money Laundering Prohibition Act 2021, and their properties forfeited to the Federal Government."
But the lawmaker who was not present in court at the time of the ruling, went underground and refused to present himself to the Nigerian Correctional Service."Instead, he proceeded to the Supreme Court, praying the apex court to not only set it aside the judgment of the appeal court but grant him bail, pending the determination of his appeal." 
But in a unanimous decision on January 27, 2023, the apex court dismissed the application. In the lead judgement by Justice Emmanuel Agim, the apex court wondered why Nwaoboshi, who refused to submit himself to the law, would seek the indulgence of the law." 
Justice Tijani Abubakar, in his contribution, upbraided the appellant for filing the bail application while on the run."We must make it very, very clear to all Nigerians that nobody is above the law. 
The government and the governed are subject to the rule of law. And, we must ensure that there is respect for the rule of law".                                             
Uwujaren said the Court of Appeal judgement that convicted Nwaoboshi followed an appeal by the EFCC against the judgment of Justice Chukwujekwu Aneke of a Federal High Court in Lagos, which had on June 18, 2021, discharged and acquitted the lawmaker and his companies.
He stated that Nwaoboshi and his companies illegally acquired a property named Guinea House, Marine Road, in Apapa, Lagos, for N805 million. 
According to Uwujaren, part of the money paid for the property was transferred by Suiming Electrical Ltd on behalf of Nwaoboshi and Golden Touch Construction Project Ltd.
They funds are believed to be proceeds of illicit activities of the convict."One of the counts reads:  " That you,  Peter Nwaoboshi  and Golden  Touch Construction  Projects Limited,  between May and June,  2014, within the jurisdiction  of this honourable court, did acquire a property described as Guinea  House,  Marina Road,  Apapa,  Lagos,  for the sum of N805m, when you reasonably ought to have known that the sum of N322m out of the purchase price transferred to the vendors by order of Suinming Electricals Limited formed part of the proceeds of an unlawful  activity of fraud: thereby committing an offence contrary  to Section 15(2) (d)  of the Money Laundering Prohibition Act  of 2011(as amended) and punishable  under Section (15)(3) of the same Act."

Share this Post